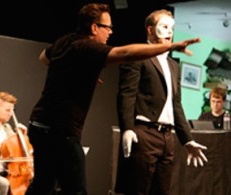 Take nothing on its looks; take everything on evidence. There's no better rule. -Charles Dickens
 Thus far, all the levels of the SFA program have been based solely in the development and application of the "authentic self," culminating with the actor's mastery of Mr. Coury's I AM technology in Level II Part II (SFA2.2). In Level III (SFA3): "Finding Yourself in Character," the actor now learns how to identify that "self" in a character and embody it to the bone by taking on the BORN TO PLAY technology.
In this intensive, the actor will have stunning revelations making the distinction between "want to play" and "born to play." Mr. Coury's BORN TO PLAY technology guides the student to finally and even surprisingly identify the character from a musical they were born to play. Then the student begins the "music as character" exercise that has the actor write an original lyric to the melody of his or her character's defining song. This original lyric is a direct outcome of the technology explored in class and it's from those deep discoveries that comes a very personal sung declaration: "I was born to play ___________."
Witnessing an actor become their musical role by the finding of them self in the character is a transformation in of itself because the process teaches a new way to work. With the "music as character" exercise complete, text and music analyzed, studied and worked on its feet, the student is ready to fully sing their character's defining song. And, in communion with the "authentic self" and the libretto/music, the actor, the person, effortlessly and intentionally brings the best of Broadway to life – the audience's* as well as their own.
*As with Level II Parts I and II, the actor presents in a final Open Master Class for the public.
Pre-requisite: SFA1, SFA2.1, SFA2.2 and pending Mr. Coury's approval.